About
In our fast changing technological world we can't predict what content our pupils will have to deal with in 20 years time. However we know for certain that they will have to be flexible adaptable thinkers and learners in the 21st century.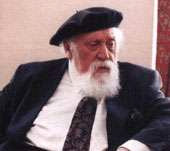 Professor Reuven Feuerstein's theory of Structural Cognitive Modifiability and its applied systems demonstrate how the learning and adaptability of each individual may be significantly improved by producing structural changes in the brain; making the learner more modifiable - more able to learn and to benefit from direct exposure to the environment and to new experiences.
Professor Reuven Feuerstein is recognised by key academics worldwide as the world's greatest educator of our generation. Feuerstein's theory and methodology offer a visionary way forward to address many of the current agenda issues in Scotland today:
"Better Behaviour, Better Learning", "Children in Care", " Early Intervention & Family Support", " Life-Long Learning" and "Anti-Social Behaviour"
Feuerstein's theory and methodology is essential in order to achieve the National Priorities in Education: improving learning and teaching; raising motivation and achievement; promoting inclusion and equality; improving behaviour and discipline; working with parents and carers to equip pupils with the pre-requisite skills for formal, social and life-long learning.